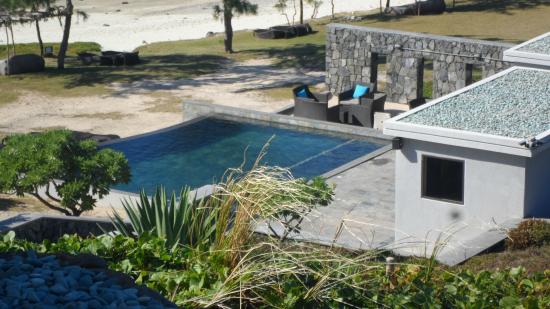 Description
Tekoma Boutik Hotel Rodrigues, the art of bare foot luxury. 

Thanks to its ideal location right on one of the most beautiful beaches of the island, Tekoma provides a unique opportunity to explore the picturesque and authentic heart of Rodrigues... 

The complex, which is located on a beautiful hillside with breath-taking sea views, offers unequalled standards of comfort, so as to stand out as an intimate and exclusive haven of peace. The local atmosphere is enhanced in each of the 65 m2 individual rooms as well as in the main building which hosts reception, the restaurant (where local flavours are highlighted), a lounge space, a beach bar adjacent to the swimming pool, and a Wellness Centre operating under the Seven Colour brand. 

Each room has been designed as an individual unit, providing comfort and privacy, as well as an exceptional view on the surrounding natural elements.
The rooms are all equipped with a king size bed, facing a large window overlooking the bay. All the furniture is in solid teak. The natural shade of teak wood is enhanced by a slight lime washed look which is in line with the local rustic atmosphere. In contrast, the fabrics provide a subtle combination of turquoise and brown which warms up the whole atmosphere. All the rooms are also equipped with a couch, a mini bar, a safe and a 32' flat screen. 

Each bathroom is equipped with a walk in closet, two natural stone sinks, a hair dryer, an Italian shower and a toilet. An outdoor bathtub situated opposite the shower provides the opportunity to move from one to the other in strict intimacy. The design of the bathroom has been thought of to promote a feeling of well-being and of intimacy. 

From the hotel, access to numerous neighbourhood outdoor activities is quick and convenient: nautical sports, walk to the splendid Trou d'Argent beach... 

Tekoma Hotel is located 30 minutes from the airport, and 15 minutes from Port Mathurin, the chief town